Global Rhythmic Academy- RHYTHMIC GYMNASTICS Program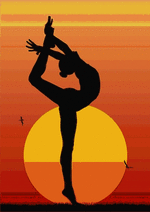 Global Rhythmic Academy the only gymnastics program devoted to RHYTHMIC GYMNASTICS in Sonoma County. Located at Liberty School in Petaluma, Global Rhythmic gives students of all ages the opportunity to learn and develop all the skills of rhythmic gymnastics as well as focus, discipline, confidence and coordination.


Global Rhythmic Academy is a USA gymnastics Member Organization. Our program offers small class sizes and individualized attention from our coaches. Our coaches are former nationally ranked gymnasts, and current safety certified USA gymnastics members.

Our Programs

Recreational: This program is for beginners rating out in rhythmic gymnastics. Classes are 1-1.5hr, 1-2 days a week. No prior gymnastics or dance experience is required at the beginner level. Recreational students learn the basics of rhythmic gymnastics with ropes, hoops balls, and ribbon, develop flexibility, learn dance skills, musicality, strength, fitness, coordination, and discipline. Students will have the opportunity to perform in 1-2 shows per year.

NEW USA XCEL Program:
The USA gymnastics new Xcel program is an exciting new program that aims to bring rhythmic gymnastics to a wider base of participants and makes the sport accessible more students. The Xcel program allows gymnasts to compete with less strict skill evaluation and training requirements. This program is perfect for students who do other after school activities and cannot spend as many hours in the gym each week. It is also a very affordable option. Xcel students will be placed in levels and learn routines to perform or compete at local events. Training requirement: 1-3 hours per week (flexible schedule).

Pre-team: Pre-team level is for girls ages 6-10 and focuses on training to prepare for competition. This level is also appropriate for new students who have prior gymnastics or ballet experience and are interested in competing. 2 hour classes, 2 days per week.

Junior Olympic Competitive: The competitive program is a more serious level of training for ages 5+ to prepare gymnasts for local, state, regional, and national competitions in Levels 3-10. Competitive level begins at level 3, a basic level which allows new team members to compete at local competitions. Starting at level 4 gymnasts will have the opportunity to compete at state and regional championships. Team gymnasts will have to opportunity to work with guest instructors throughout the year and compete from January-June. Please see notes about team requirements.




---