Global Rhythmic Academy was originally founded by Maria Ivanova in Richmond California. The name was chosen to represent the diversity of the gymnasts, who at that time came from all different corners the U.S. and the world. Global Rhythmic was home to numerous nationally ranked rhythmic gymnasts all of whom qualified to National Championships. Former Global gymnast Thea Torgersen is now the head coach of the new Global Rhythmic Academy in Petaluma California.


Our our goal is to provide high quality rhythmic gymnastics instruction while maintaining a fun and healthy environment. We seek to help children develop gymnastics skills as well as develop a love and appreciation for the sport of rhythmic gymnastics.


Global Rhythmic Academy hosts 1-2 competitions per year at Callinan Sports and Fitness Center in Rohnert Park ,CA

​

​Global Rhythmic- NEW Xcel team program:

We are excited to announce that we will be hosting the new USA gymnastics Xcel program at our annual competition this season and starting an Xcel team at Global Rhythmic Academy. We want to extend the opportunity to perform and compete as part of our Xcel team to students from our beginner and level 2 classes, as well as our experienced students. This program is a great introduction to rhythmic gymnastics above the recreational level and participation is possible with 1 day per week classes. The Xcel program also may serve as a steppingstone for advancement into the Junior Olympic program. Program overview attached below.



About Rhythmic Gymnastics

Rhythmic gymnastics has been an Olympic sport since 1984. While it is most well known in Europe, Rhythmic Gymnastics has grown in the United States in recent years. Rhythmic gymnastics is a beautiful and unique sport that combines elements of gymnastics and dance with the five pieces of apparatus: ROPE, HOOP, BALL, CLUBS, RIBBON.
Rhythmic gymnastics develops
Precision, strength, flexibility, body control, as well as concentration, discipline and self confidence
.
Watch the best of rhythmic gymnastics
USA Gymnastics
YouTube Channel
Coaches:
Thea Torgersen- Head Coach

Stephanie Roh- Assistant coach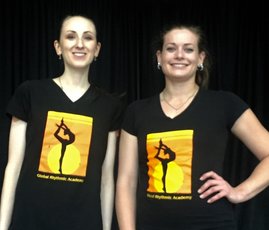 Thea Torgersen has 20 years experience in Rhythmic Gymnastics and is a former level 10 gymnast. She been coaching rhythmic gymnastics since 2008, with gymnasts winning state titles and qualifications to Junior Olympics in 2009 and 2011.
Thea was a national level rhythmic judge and has been judging since the age of 16. She served as a member of the USA gymnastics national event staff for the USA Championships in 2014, 2015 and 2016 and has worked at many other national and local events.
Thea began rhythmic at the age of 4 and was a competitive rhythmic gymnast for 11 years, training with many expert coaches. She is a 2-time Junior Olympian in both individual and group rhythmic gymnastics, and a State and Regional champion. Thea was a member of the first ever national Future Stars team in 2001, and qualifier to the 2007 Visa National Championships as a level 10. Thea was a recipient of the Rhythmic Education Fund Scholarship in 2007.

In addition to rhythmic training Thea has trained in ballet, modern and lyrical dance.
Thea graduated summa cum laude from Sonoma State University in 2011 with a B.A. in Psychology.

Stephanie Roh- Competed 9 years in rhythmic gymnastics and has coaching experience in both artistic and rhythmic gymnastics.

​
---